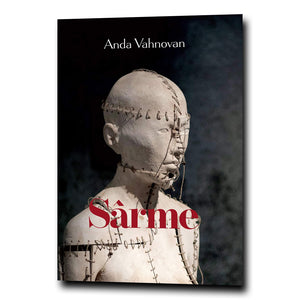 The Toporaş Online Art Gallery
Sarme
Author: Anda Vahnovan
Paperback: 88 pages
Publisher: Casa de Pariuri Literare (2022)
Language: Romanian
ISBN: 978-606-990-362-9
__________________
To get an autographed copy please send us a request!
__________________
FREE delivery in the UK.
Dispatched within 24 hours. 
To discuss other shipping options please Contact Us. 
__________________
Sârme
după atâția ani mă bântuie încă
rufele înșirate pe sârmele
în fața căminelor cu cinci etaje,
stâlpi de metal,
firele contorsionate la capete,
expunere publică a dedesubturilor
rasturnate din lighene colorate
ca o marfă pe tarabele negustorilor ambulanți.
cearșafurile fluturau ca niște steaguri
pacea de după capitulare.
motive de ceartă cu copiii din curte
jucându-se de-a mijatca printre ele
ca prin livezile cu vișini înfloriți
încolonați în șiruri,
murdărindu-le.
surse de bârfe printre vecinele
curioase –
sârmele –
spânzurători ale marilor piețe
forme de judecăți publice –
executau nemilos, fără drept de apel
statutul
de curată sau nu prea.
tinereți mătăsoase zbuciumate în rafalele vântului
alături de lâna înnădită a bătrâneților
și scutecele de bumbac – perioada dintre.
sărăcii cârpite și chilipiruri scumpe –
de la cine? cu ce preț?
oh, și mai ales, sutienele dantelate –
trădătoare nemiloase ale tainelor femeiești
spasmând nervul optic al
bărbaților ieșiți să fumeze seara
la balcoane