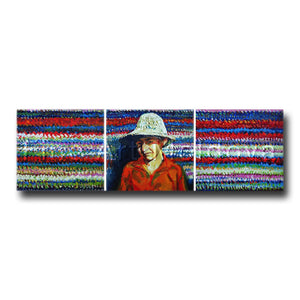 This is an original painting (triptych). 
Artist: Ghenadie Şonţu
Year: 2001
Medium: Oil on Canvas
Size: (60 x 56 cm) x 3
The boy in the painting represents thousands of children left behind by parents who went abroad to search for a better life after the fall of the Soviet Union. It was painted in the village of Tira, which no longer exists on the country's map.
"This phenomenon has changed not just the social structure of Moldovan families but the social structure of our nation", Şonţu says. 
__________________
To enquire about price and discuss shipping options please Contact Us. 
__________________
Buy Toporaș fine art edition of this painting here.