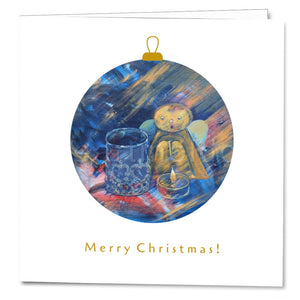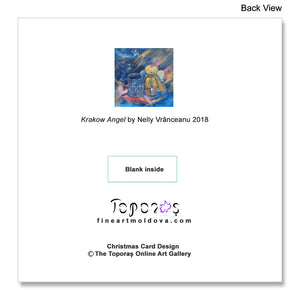 Nelly Vrânceanu
Krakow Angel - Merry Christmas! - packs of 5 or 10
This Christmas Card was designed to give art lovers around the world a taste of Moldovan art. It features Nelly Vrânceanu's oil on canvas painting entitled Krakow Angel, 2018.
NEW: Enjoy and SHARE a free eCard!

__________
To enquire about prices and discuss shipping options please Contact Us. 
__________
Vrânceanu takes great interest in depicting landscapes that immerse the viewer in a sight ruled by emotions even if the hues are calm and there is not much contrast. She chooses to speak about feelings because she believes they accentuate our values rather than just helping us obtain things.
'Advocating for or against something makes us chose every time to be on one side or the other', she says. 'In such a way we could create a utility for any art object. But then who would speak about feelings? Who would move the fibres of perception? What would the colours be? What would the values be?'
__________
The artist's name, the title of the painting, and year are printed on the back of each card along with the Toporaş Online Art Gallery's logo. Blank inside.
The card is produced on digital printers using 300gsm acid and lignin free paper. It is blank inside. It comes in packs of 5 or 10 cards, each with a white or ivory envelope.
Each card 13.5 x 13.5 cm.
Shipping within one business day of the order date.
The watermark will not be printed on the card.